The Macallan Experience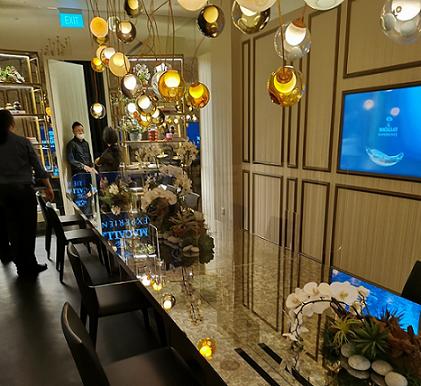 Millie's Enterprise participated in this Multi-Sensory Immersive Whisky Experience on the invitation of Edrington on 13 Nov 2020.
The Macallan Experience is far more than a brand exhibition or a mere tasting experience. The whole heritage is brought to life with excellent narrative presentations. It's very unlikely to book a flight to Scotland now to view the Macallan Distillery but you can experience it all right here, in Raffles Hotel!
Spanning over seven shop units at Raffles Arcade, The Macallan Experience promises to take guests through a sensorial and memorable whisky journey with a state-of-the-art sensory cinema, an interactive kinetic art installation, and an archival gallery. Over at the whisky lounge, treat yourself to the finest range of exquisite single malts and curated cocktails. Private masterclasses and tasting experiences are also available for booking.
The "journey" begins with a tunnel-like gallery space filled with oak casks, casks being essential in maintaining the quality and flavour in whiskies. A film on loop captures the cask-making process, expertly executed by craftsmen from the Jerez de la Frontera region of southern Spain. A single cask awaits here, where you'll be transported to Jerez de la Frontera, Southern Spain, via a film showcasing the process of cask making at The Macallan. Smoke, heat, and the subtle scent of a distillery will accompany you on your journey as you discover the work behind handcrafting oak casks.
You can also get up close with rare bottles from the brand's archives on their way to the bar and lounge. Bottles on display include The Macallan 72 Year Old in Lalique – the oldest whisky ever released by the Macallan family – sitting atop a funky acrylic pedestal and the Raffles Hotel Singapore Edition. The newly-released Macallan Edition No 6 is available at $204 here.

In the Sensory Cinema, watch a 12-minute film featuring two inspiring life stories - of freediver Marese Secades and eye doctor Reeta Gurung - while sipping on two drams of The Macallan - Double Cask 12 Years Old and Sherry Oak 12 Years Old. Here, aromas of pineapple and citrus, and chocolate and spices are released.
Tickets for the cinematic tasting experience are priced at $28, with all proceeds going to the Water and Healthcare Foundation, which helps rural communities in Cambodia.
There is a Private VIP Dining Room that can accommodate 2 groups of 5 pax. Great food can be pairred from a selection of fine whiskies from The Macallan every month. These exclusive menus will be created by Pierre Burgade, Executive Chef of Raffles Hotel Singapore, and his team of Chefs de Cuisine from La Dame de Pic, 藝 yì by Jereme Leung, and Butcher's Block.