ICCS
Lambrusco Event
19th - 20th October
Reggio Emilia, Italy
LAMBRUSCO EVENT @ REGGIO EMILIA
Organised by ICCS (Italian Chamber of Commerce Singapore) in conjunction with Chamber of Commerce of Reggio Emilia, a contigent of almost 20 delegents were invited for this event from Singapore, Malaysia, Thailand and Hong Kong. Millie's Enterprise is one of the nine Singapore companies in the event.
Reggio also known as the Tricolour town, because it was here that the future Italian flag was adopted for the first time in 1797, has an ancient history: in the 11th century, the town was the heart of Matilde's county in the neighbouring territory. Later, important figures marked its Renaissance, ranging from Boiardo to Ariosto, the great poet of The Orlando Furioso. Reggio Emilia is also well-known for Lambrusco production.
Nowadays, famous for its gastronomy, lifestyle quality and, internationally, the "best kindergartens in the world", Reggio is also a city of art, whose symbols are the seventeenth-century Basilica della Ghiara and the famous Teatro Municipale.
19 Oct
Transfer from Hotel Posta to Chamber of Commerce of Reggio Emilia, Palazzo Scaruffi
Welcome Speech by the President of the Chamber of Commerce of Reggio Emilia
Intensive B2B for Food & Wine
Visit to Teatro Municipale in collaborazione con il Comune di Reggio Emilia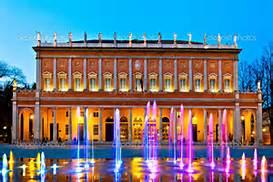 Dinner at Ristorante Canale Maestro
20 Oct
Pick up at Hotel Posta and visit to companies
Dinner at Ristorante Caffè Arti e Mestieri
We never tasted so many Lambruscos before! Most interesting is the food - the cheeses, olive oils, etc. Millie's visited Dalter Alimentari Spa and Wine Eat Italy SRL. We were most impressed at Dalter. It's like visiting a clean room - we must wear head covers, shoe covers as well as plastic overcoat. The automated process from washing the wheels, slicing the wheels, and cutting to various dimensions according to customer's requests is most impressive! The company supplies a range of bags and trays from 500g to 2.5kg. Pre-grated and pre-cut cheeses are all packaged in protective atmosphere, with no added preservatives or drying processes.